Endowment Investment PhilosophyTM
The Endowment Investment PhilosophyTM builds portfolios using an asset allocation methodology pursued by major universities like Yale and Harvard because it offers the potential for superior risk-adjusted returns and lower volatility for portfolios with long-term investment horizons. This investment philosophy expands the number of asset classes and strategies used to create a portfolio beyond stocks and bonds by including alternative investments such as hedge funds, private equity, and real assets in addition to traditional stocks and bonds in a global framework.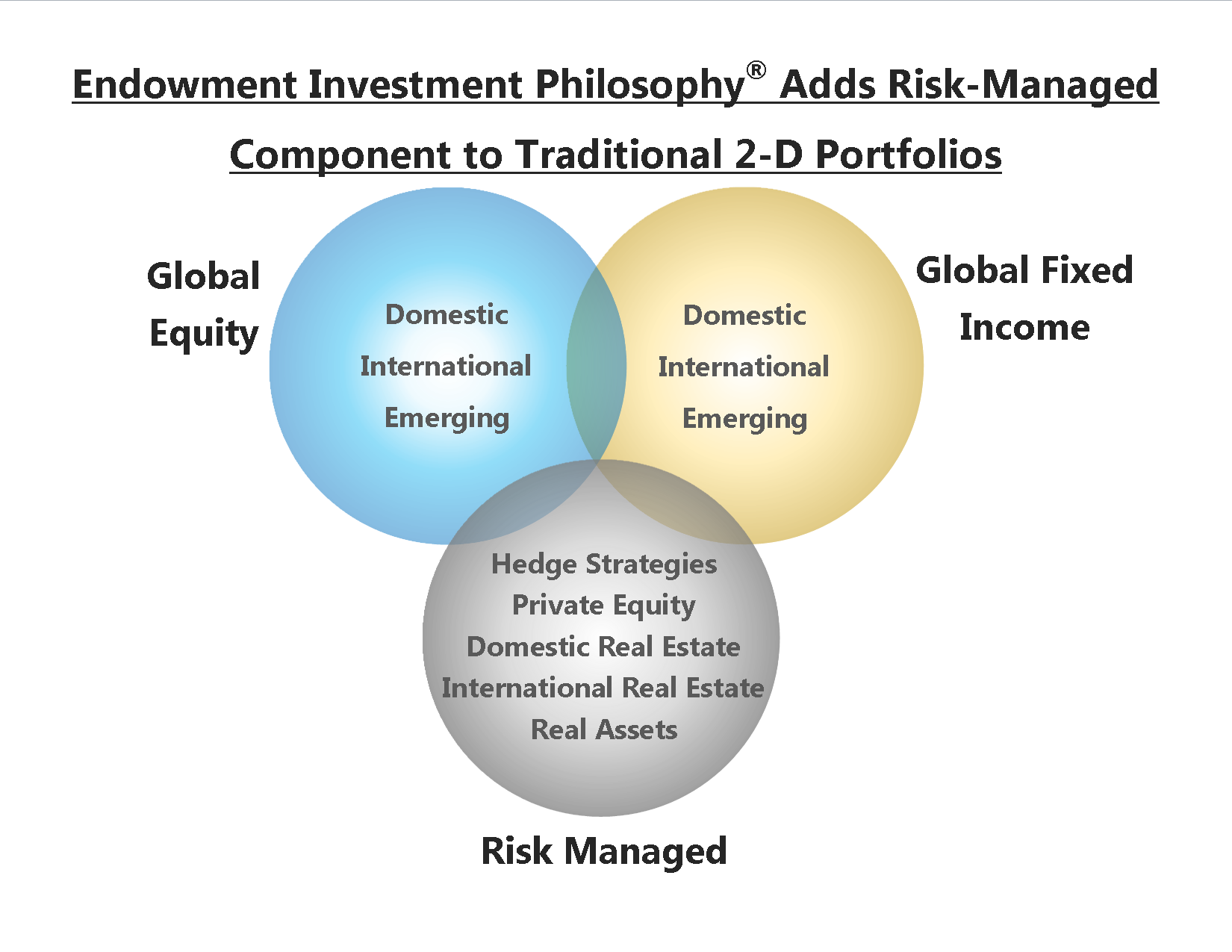 You Can Implement the Endowment Investment PhilosophyTM as a:
The investments below are not invested in the Endowment IndexTM; you cannot  invest directly in the Endowment IndexTM. Indexes do not have fees.  Investments are not guaranteed, not bank insured and may lose value.  Investing involves risk, including possible loss of principal. Investors should assess for themselves their objectives, fees, and the risks involved before making any investment decision.
Foundation/Endowment/Family Office:
ETF Model SolutionsTM can provide your Foundation, Endowment or Family Office with an Endowment IndexTM-based passive, liquid Endowment solution.  ETF Model SolutionsTM can also construct an active strategy based upon the Endowment IndexTM.  Please call Prateek Mehrotra, Chief Investment Officer, MBA, CFA®, CAIA®, at (920) 785-6010 to learn about how you can reduce your management costs through our outsourced CIO services. Please sign-up below to receive the Endowment IndexTM fact sheet and periodic updates.
 401(K) Plan Sponsor/Adviser:
Plan Sponsors/Advisers can now access the Endowment Investment PhilosophyTM through unitized models that can be included as investment options within a 401(k) Plan.  These globally diversified, multi-asset class risk models may serves as an alternative to a traditional balanced or target date funds.  Please call Tim Landolt, Managing Director, MBA, at (920) 785 – 6012 to learn how you could add Endowment Risk-Based Models to your 401(K) investment lineup.
Investment Adviser:
Investment Advisers can now implement the Endowment Investment PhilosophyTM in a core satellite framework by using the Endowment IndexTM  in the core and adding our ETF based TAMP/SMA models as satellites. Please call Tim Landolt, Managing Director, MBA, at (920) 785 – 6012 to learn how to implement the Endowment Investment PhilosophyTM in your client portfolios. Learn more about our 7 ETF Based Models.
Individual Client:
Individual investors can invest in models created from the underlying ETF components of the Endowment IndexTM.  Visit www.MyRoboAdviser.com tor  call Tim Landolt, Managing Director at (920) 785 – 6010 to learn more.
Sign Up Below to receive more information about the Endowment IndexTM
To receive the current fact sheet and Index data history please provide a valid email address, then click "CONTINUE".  Please do not fill out your First Name/Last Name/Company Name until your email has been verified (don't worry- it only takes a few seconds).
After we have verified your email address, please continue your request by filling out your First Name, Last Name, Company Name, and the Alpha-Numeric code (to prove your not a robot), then hit "SUBMIT".
If you don't receive an email containing information on the index within a few minutes, please check your spam or junk-mail folder.  If your requested information is not in your spam/junk folder-  don't give up!   Just send an email request to  info@etfmodelsolutions.com, or call us at 920.785.6012 and we will gladly get this information out to you. 
ETF Model SolutionsTM values your privacy and we will not sell or share your contact information.
*Refers to underlying components.   Reported index results do not have fees and expenses. You typically cannot invest directly into an index.
Award recognition does not qualify as an endorsement of any particular index, investment or investment strategy.  ETF Model SolutionsTM does not make solicitation payments to award sponsors in order to be nominated or to qualify for the nomination of an award. For information on the Index of the Year award, visit ETF.com.